MODUS II - III
Patented Cutter - mixer - distributor vertical trailed wagon with augers on different levels - hydrostatic transmission 0/50 rev/min

NEW MACHINES GUARANTEED BY TWO INTERNATIONAL PATENTS:N. PD2001A000228 e N. PD2001A000229.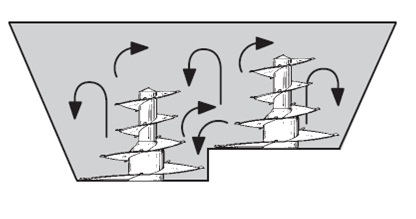 Modus and Apache are vertical feed mixers in two or three screws that unlike the other wagons working on planes of different height of at least 15 cm. In this way the force of gravity favors the passage of the material to fall from side to side and this creates a double-rotary vertical mixing cycle and the different height ensures the intersection of the augers at the bottom without any collision of the same, also in phase variation of the speed of revolutions. The result is a unique blending with the ability to insert any type of product: long, short, packed, wet and dry. This system is also suitable for the preparation of dry rations for the feeding of beef and sheep that also require large amount of fibrous product.
| | | |
| --- | --- | --- |
| | | |
The Modus II model is a hydrostatic transmission where a special multiplier operates two in-line pumps with variable flow with electronic control equipped with two potentiometers which allow you to individually select the number of revolutions of the motors actuating the augers from 0 to 50 per minute.
With this solution the user can, based on the product to be cut, mix or to download, choose the most suitable number of revolutions. In addition, the hydrostatic transmission has the advantage of not overloading the tractor engine in case you need to restart the augers with the wagon already full of product, because you can choose to start with the minimum speed.The unloading belt , the door opening of the tank, the hydraulic foot, the electronic cut and any other accessories are electrically controlled.
| | | |
| --- | --- | --- |
| HEAT EXCHANGER EQUIPPED WITH HYDRAULIC FAN | | MAGNETIC DOSER ROLLER FOR A HOMOGENEUS DISCHARGE, PARTICULARLY INDICATED FOR DRY MIXING |
NEW HYDRAULIC SYSTEM EQUIPPED WITH ELECTROVALVES AND VARYING FLOW PUMP THAT WORK INDEPENDENTLY